3D pens are practical: they are easy to handle, small and compact and cost little. -But what can you get out of a pen? In this article we show you some examples of the 3Doodler from WobbleWorks that will certainly inspire some maker!
---
Travel Tags
To distinguish your suitcase from the others, Doodler Erica Gray provides you with instructions for personalized travel tags. For this project you don't need a special 3D-Pen experience, but your 3D-Pen Create, FLEXY-Filament in the colors of your choice, the Create Doodle Pad and a label template, which is optionally available as download for printing.
---
Design a là Frank Lloyd Wright
In June 2017, the American star architect Frank Lloyd Wright, who is known for his organic architectural projects, would have had his 150th birthday. Well, that could be an occasion to "doodle" one of his works! This project was designed between 1936 and 1939 for the Kaufmann family and built in Southwest Pennsylvania. The highlight fpr makers: In collaboration with the Western Pennsylvania Conservancy, WobbleWorks provides licensed templates created with the real floor plan!
To the more detailed instruccion
---
Cool Game Pieces
Is the big sister getting on your nerves with her Frida Kahlo tic? Or vice versa: Is the little brother annoying with his action heroes? In any case, a small internal family dispute can perhaps be solved with a common tinkering and a subsequent battle on the game board!
To the article about the so-called Fan Creators
---
Arty Makeup
The aspiring make-up artist Kim Hyun-Kyung wanted to take her makeup art to the next level and came up with some designs that can be realized with a 3D printing pen. She was inspired by fashion shows by designers such as Alexander McQueen or the 3D print fashion artist Iris van Herpen, who play with new forms and materials. But beware: Kim also had to practice with her Doodler until she could achieve a perfect result after several attempts. But their 3D-printed results can be shown and are certainly worth a try!
---
Cycling Accessories
3Doodler Marketing Director Kelley Toy, who is a passionate cyclist, worked hard for this design. He hitched his colleague, the product development engineer Samson Wong, and lo and behold, his efforts have paid off: This bottle holder can be attached to any bicycle, whether mountain bike, trekking or city bike.
---
Model Figures
This imaginative idea can be taken to heart in order to put oneself in a better frame of mind as a model created by oneself could have an effect on a viewer in reality: Nikka Francisco, an art and design student and internal 3Doodler employee, attended a 3D Design Form & Space course where the goal was to think in 3D worlds, view installations and sculptures from multiple perspectives and create models for presentations. As part of this course, Nikka created a model for an art gallery and reflected on how this gallery could affect the viewer. Then he came up with the ingenious idea of giving the model a touch of liveliness with small doodled figures.
---
Functional Designer Piece of Furniture
If you have time, patience and a lot of filament for your 3D pen, you might venture on a similar project as Shim Jeong-Sub did. This is a functional chair in frame look that actually carries people without any problems – and it was manufactured solely and exclusively with a 3Doodler. For the project "Connect" the student from Hongik University needed two months and 450 meters of filament.
---
Teaching Aids
In the meantime, 3D printers are increasingly being used in schools to enrich lessons on several sensory levels. 3D printing pens can also make learning more enjoyable and easier because they can be used to support the learning process. Children and young people with learning difficulties in particular, who may have a tactile rather than an auditory approach to learning, can benefit from this medium. For example, how about 3D images for bio-teaching? Or the Eiffel Tower as a real 3D-printed model instead of just a pencil drawing in your exercise book?
---
Helpful Repairs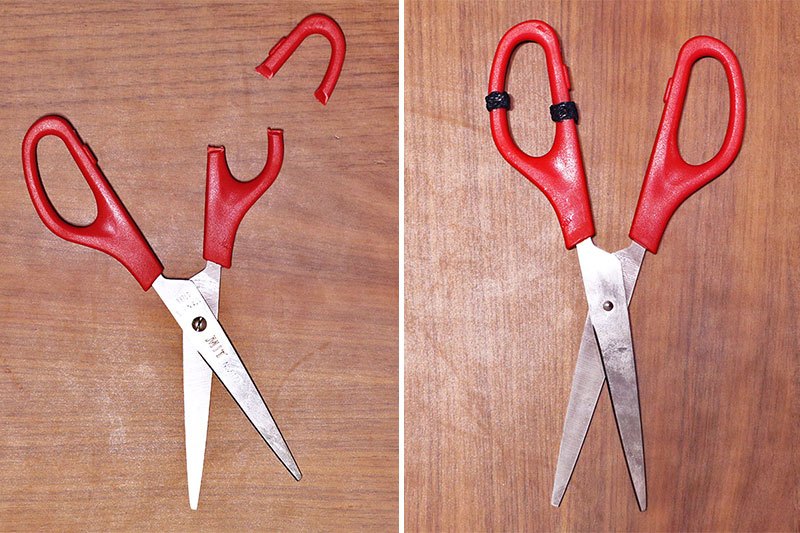 What to do when you need scissors and the handle breaks at this very moment? – Then simply use a 3D pen! At the broken points, the plastic can be melted together a little with the hot tip of the 3D pen, a subsequent PLA wrapping above it fixes the spot firmly.
---
Mobile Phone Stand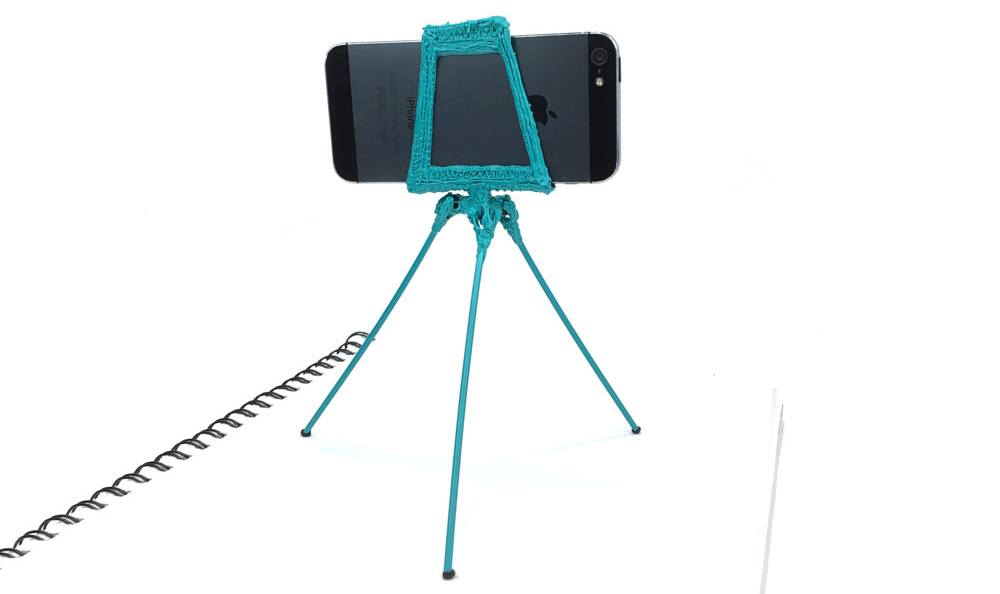 With a little patience you can also print a smartphone tripod. This one is made of ABS to ensure good stability. The legs are adjustable, the feet flexy so that they stay where you put them.