3D printing has also long since arrived in art, and so-called post-Internet artists are using the creative possibilities of 3D printing. Contemporary art fairs such as London's Frieze Art Fair exhibit such innovative hybrid works of art created using additive manufacturing. Here is a small selection
---
Aleksandra Domanović, "Relay Runner" (2013)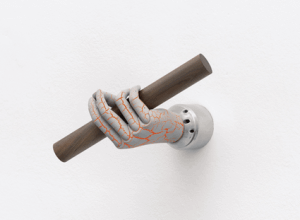 The artist Aleksandra Domanović created this object using the laser-sintering process. For this she used PA plastic, polyurethane, soft-touch and aluminium finish and Yugoslavian chestnut wood. "Relay Runner" is one of a total of five variants of her series "Belgrade Hand", a functioning robot hand and hand prosthesis developed by the Yugoslavian scientist Rajko Tomović for war opera. Domanović presented her interpretation in the gallery of Tanya Leighton in Berlin in different positions: From an Indian gesture for fertility and love to this object.
---
Peter Coffin, Untitled (Shoe) (2009)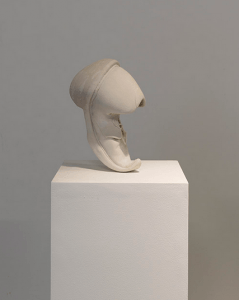 Among other things, Peter Coffin chose polymer for his art shoe. At the exhibition he juxtaposed two versions: The shoe he found and the 3D printed shoe that mutated into a fetus with its heel pointing upwards.
---
Jon Rafman,
"NAD

(Zigzagman Malevich)" (2013)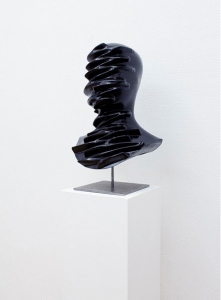 This sculpture is a digital interpretation of a Greek bust superimposed with a sketchy drawing by Kazemir Malevich. It was printed with polyamide and then given a lacquer finish.
---
Yngve Holen, "Hater Head" (2013)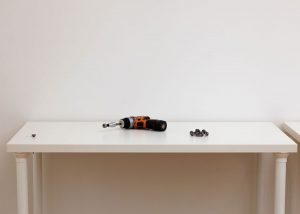 The artist Yngve Holen focused his "Hater Head" on the process of 3D printing and manufactured titanium screws using the metal sintering process (DLMS-EOS Direct Metal Laser Sintering). In the exhibition he then showed the finished screws, a cordless screwdriver, the attachment for the screw head, a screw drilled into the table and a video animation. A "Hater Heads" version made of white, strong but flexible nylon can be found on Shapeways!
---
Karin Sander, Visitors on Display (2013)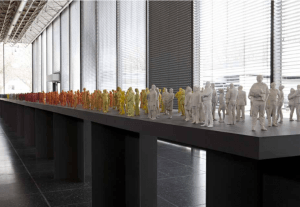 Karin Sander has been researching rapid prototyping for over ten years in collaboration with the University of Utrecht. In 2013, she presented an installation entitled "Visitors on Display" at the Lehmbruck Museum in Duisburg, which consisted of almost 1000 3D miniatures, including three dogs. They represent museum visitors between 10-22 cm in size, printed in 3D in the colour of their choice.
---
Morehshin Allahyari, "Material Speculation: ISIS – King Uthal" (2016)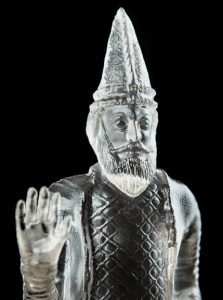 Moreshin Allahyari is an Iranian-American artist and activist who specializes in the reconstruction of destroyed sculptures and monuments. This picture shows the resin replica of King Uthal, a nearly 3000 year old artifact from the Assyrian Empire, produced by 3D printing.
---
Superflex, "Investment Bank Flowerpots/ Deutsche Bank/ Marijuana" (2016)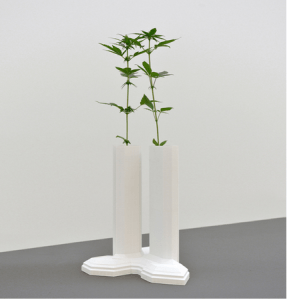 The artist group Superflex from Copenhagen (Denmark) printed this cannabis vase in 3D and exhibited it in Basel. The "Investment Bank Flower Vases" series symbolizes the headquarters of the world's twenty largest investment banks and serves as a vessel for the hallocinogenic plants marijuana, peyote and San Pedro cactus.
---
Beer Holthuis, Paper Pulp Lamp (2018)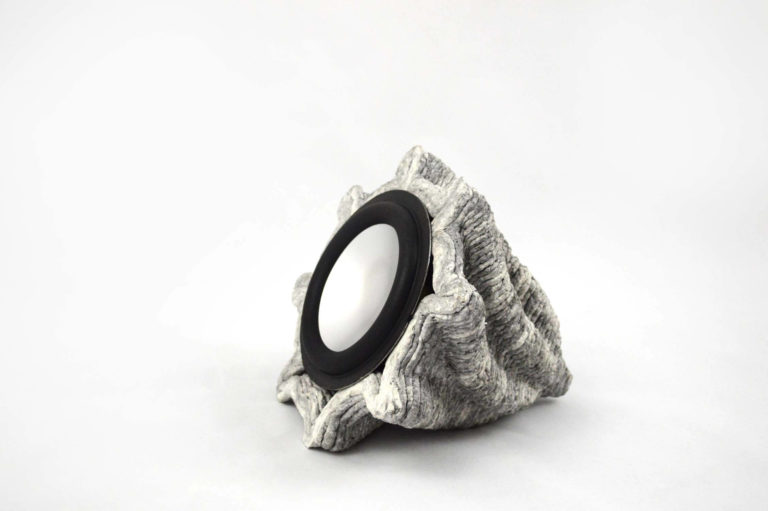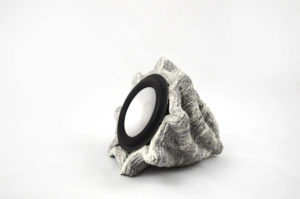 The young Design Academy Eindhoven graduate Beer Holthuis is dedicated to 3D printing and recently designed the so-called "Paper Pulp Printer", which processes paper pulp. With this project, Holthuis wants to make a statement that – apart from often expensive exceptions – printing is almost exclusively done with plastic instead of sustainable filament. The Paper Pulp recycles paper and produces robust and shapely objects such as this loudspeaker shell.