In this article we show you eight interesting video tutorials about how to 3D model animals in which you get to know user interfaces and tools of various 3D programs step by step.

---
Low Poly Elephant
Tutor: Grant Abbitt
Contents of the tutorial: In this video you will learn step by step how to convert with Blender a 2D animal into a Low Poly 3D model.
About the software: Blender is a popular 3D program for makers, which can be downloaded for free and it is equipped with the following features: modeling, rigging, animation, simulation, rendering, compositing and motion tracking, video editing and game creation. To Blender
---
Cartoon fish
Tutor: Marianna Kondratuk
Content of the tutorial: With the video of "Marianna Kondratuk" you learn how to create a 3D fish in cartoon style with Autodesk Maya 2016.
About the Software: Maya is a 3D animation, modeling, simulation, and rendering software that can be used for animations, environments, motion graphics, virtual reality and character creation. To Autodesk Maya
---
Horse
Tutor: Photo Bots
Contents of the tutorial: "Photo Bots" explains in detail how you can transform a real 3D model out of a 2D horse picture by using the software 3ds Max.
About the software: The 3D modeling and rendering software 3ds Max can be used to create game worlds, scenes for design visualization and virtual reality experiences. To 3ds Max
---
Peppa Pig
Tutor: Desktop Makes
Content of the tutorial: After watching this video you will not only be able to model the piglet Peppa Pig, but also to print it!
About the software: "Desktop Makes" chose Fusion 360, a for 3D printing known software, to model a 3D version. The 3D CAD, CAM and CAE tool combines the entire product development process in a single cloud-based platform and is compatible with Macs and PCs. About Fusion 360
---
Squirrels
Tutor: Smoothie 3D Info
Contents of the tutorial: With this easy to use tutorial you will learn how to turn your favorite animal into a 3D figure in no time at all.
About the software: Smoothie 3D is a user-friendly 3D modeling software that also lets you create models for 3D printing. The tool is for free, but you have to register to use it. To Smoothie 3D
---
Cartoon Rabbit
Tutor: tiqlatpalasar
Content of the tutorial: If you want to know how to give an animal cartoon character a real body, then this tutorial is for you!
About the software: "tiqlatpalasar" modeled the rabbit in Scratch. The tool is a project of the Lifelong Kindergarten Group at the Media Lab of MIT. It is offered free of any fee, only one registration is required. To Scratch
---
Cat
Tutor: Qehzy
Content of the tutorial: "Qehzy" explains step by step how to develop a 3D cat with Cinema 4D (=C4D) without a 2D template.
About the software: 3D modeling with Cinema 4D starts with a simple object or with a single polygon and continues with more and more polygons to create the desired shape in 3D. The software offers many convenient tools for creating, subdividing, moving or cutting polygons. To Cinema 4D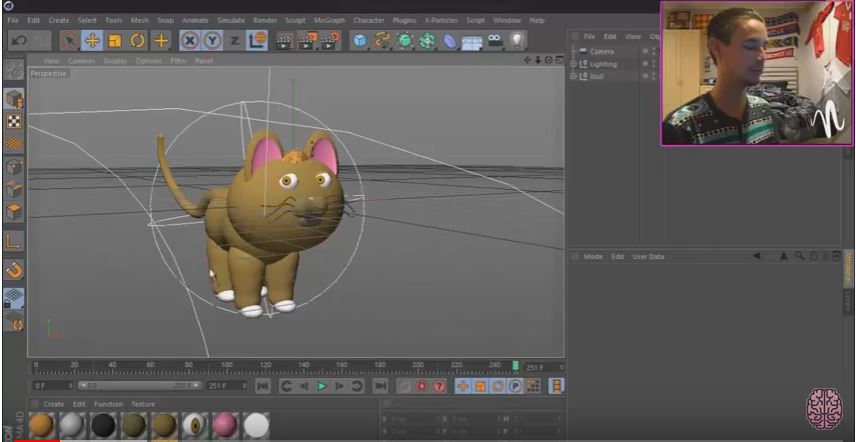 ---
Low Poly Deer
Tutor: Mt. Mograph
Tutorial content: In this video, you'll learn how to use Cinema 4D to turn a 2D image of a deer into a Low Poly 3D model.
About the software: Cinema 4D is a versatile 3D tool (>see also the previously introduced 3D cat). It is based on an intuitive operating concept, has a user-friendly interface and enjoys a large community. About Cinema 4D