Granted: Frida Kahlo fan articles are enough. But the set of makers "Evavooo" and "mautilio" is unique and you can download it for free and make it with your 3D printer!
---
Making of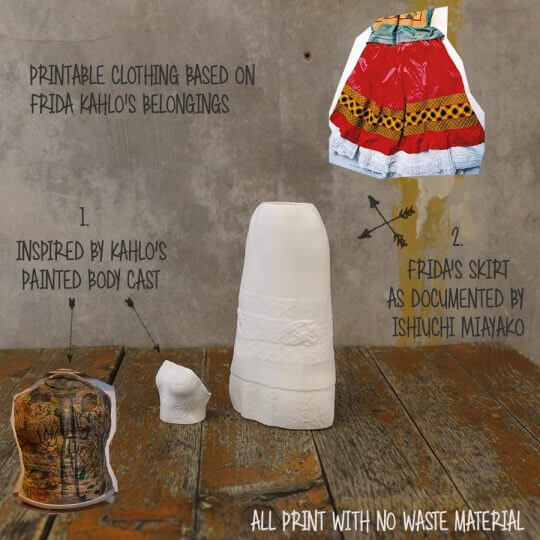 For the two artists Eva Sbaraini and Marco Autilio it was important that the set is easy to print, but the result does not have to lose quality. To do so, they took a figure model they had already designed earlier, which they then modified with the ZBrush software so that it resembled the Mexican painter as much as possible. It was based on various paintings by Frida Kahlo and pictures by the Japanese photographer Ishiuchi Miayko, who not only captured Frida herself but also her traditional clothes, accessories and possessions in detail. From these data they created the individual 3D models, which can now be downloaded free of charge as STL files for 3D printing from MyMiniFactory.
Beginners who are not yet familiar with the project, or interested people who do not have a 3D printer at hand, can also order the set on MyMiniFactory!
---
---
Frida
The Frida Kahlo figure consists of three parts with a total of 10 points of articulation, which can be made in a single print job without support structures in any conventional 3D printer. Suitable materials include PLA or ABS. Printing time is less than 8 hours. The finished parts are then simply plugged together with a click.
For the outfit, consisting of plaster bustier and long skirt, you have to plan about 10 hours printing time. Use flexible filament for both parts, such as Ninjaflex, Filaflex or Verbatium.
---
Four-poster bed
Frida's four-poster bed, consisting of 11 parts, was also recreated in detail with ZBrush and Rhinoceros3D. The set includes the mattress with pillows and Frida's name on the outside, butterfly carvings on the roof and the quote "Feet what do I need you for when I have wings to fly" on the back of the bed. It is 16 x 30 x 25 cm in size and you need about 700 grams of filament.
---
Mexican chair
To match the Mexican ambience you can also print out this traditional chair, which you can put next to the bed or leave Frida sitting on it. It was created with Rhinoceros3D software, the printing time is about 5.5 hours.
---
Monkey
In Frida Kahlo's "Blue House" it was exotic: between palm trees, agaves and cacti magnificent birds flew and still fly today and Frida even possessed a small monkey, which she often carried on her shoulder through the garden and immortalized in some of her pictures. Now you can print that monkey and hang it on the canopy bed with its tail! You need less than 10 grams of filament and less than 1 hour printing time for it.
---
Angel and Skeleton
Angel and skeleton are perfect as Frida Kahlo decoration! The two 3D models can be printed simultaneously and are completed aproximately within an hour.
---
---