ODD Guitars is an electric guitar company founded by Swedish designer Olaf Diegel, specializing in cool 3D-printed guitars
---
Heavy Metal
The model "Heavy Metal" is the world's first 3D-printed aluminium guitar. On the one hand, it was developed to explore what metal 3D printing is capable of. On the other hand, to better understand the entire process, from the design to the actual printing of the guitar to the post-processing required to move from a 3D-printed metal part directly from the machine to a usable instrument.
In addition to the 3D-printed body, the guitar has a maple wood interior, a Warmoth custom neck, Seymour Duncan pickups, a Schaller bridge and Gotoh 510 mini locking tuner.
Originally the electric guitar was supposed to be called "War and Peace", but Diegel finally decided on "Heavy Metal" – even though the guitar weighs only 3.7 kg and is therefore not so "heavy".
---
The Body
The guitar body is completely 3D-printed, made of aluminium, in one piece in a EOS M400. The artist called on the help of the Xilloc team from Holland.
Specifications of the EOS M400
---
The Manufacturing Process
Diegel designed the heart of the guitar with the 3D software Solidworks in Telecaster style and decorated it with barbed wire and roses. But the players can be sure: the barbed wire tips are far away from the body!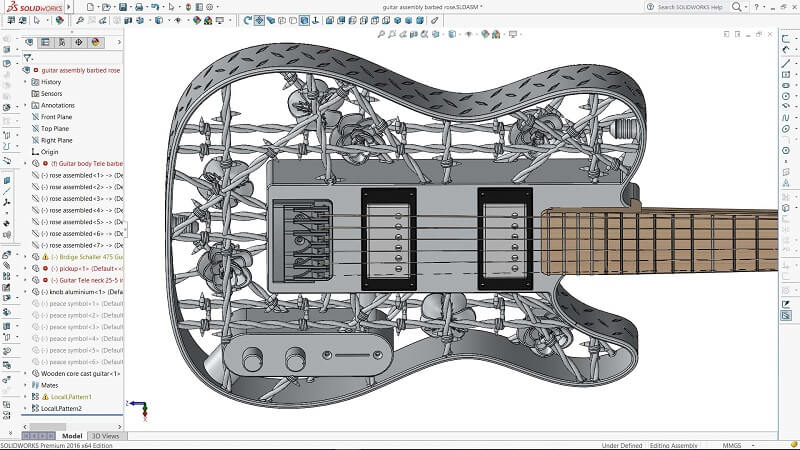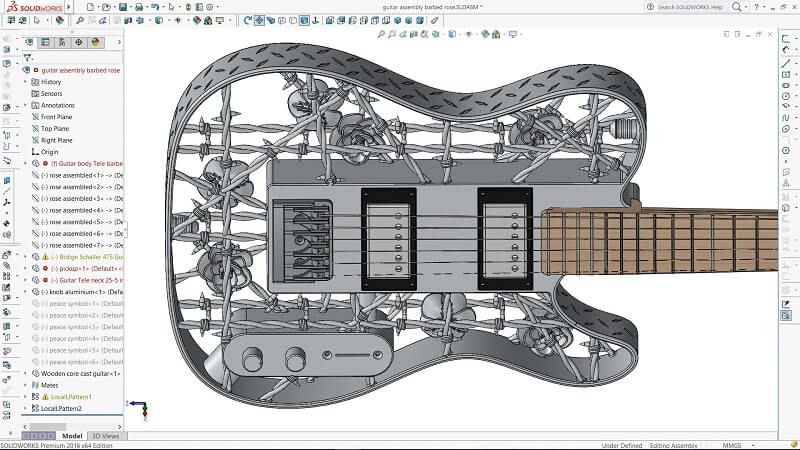 The CAD model was then saved as an STL file and sent to Xilloc in Holland to print the guitar with the EOS M400. The machine prints using the so-called SLS (Selective Laser Sintering) printing process, a powder bed melting system that works by applying a thin (typically 0.1 mm thick) layer of metal powder, in this case aluminium powder, and then uses a laser to apply each individual layer of the 3D model to the powder. Wherever the laser hits the powder, the powder is completely melted. This process is then repeated in layers until the entire guitar body is printed: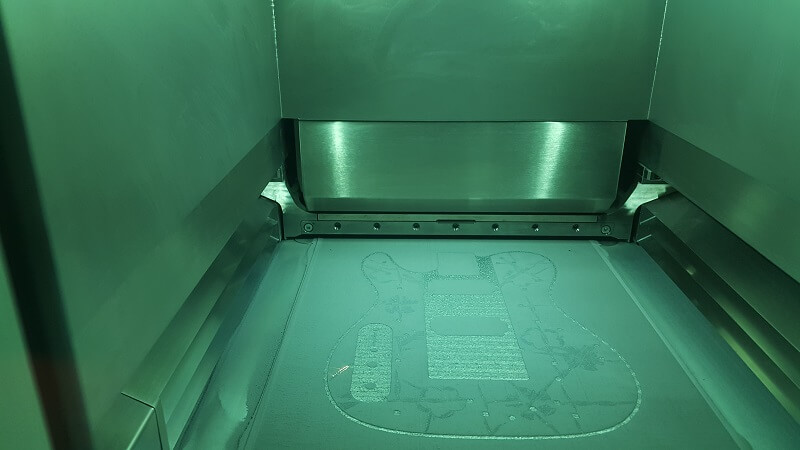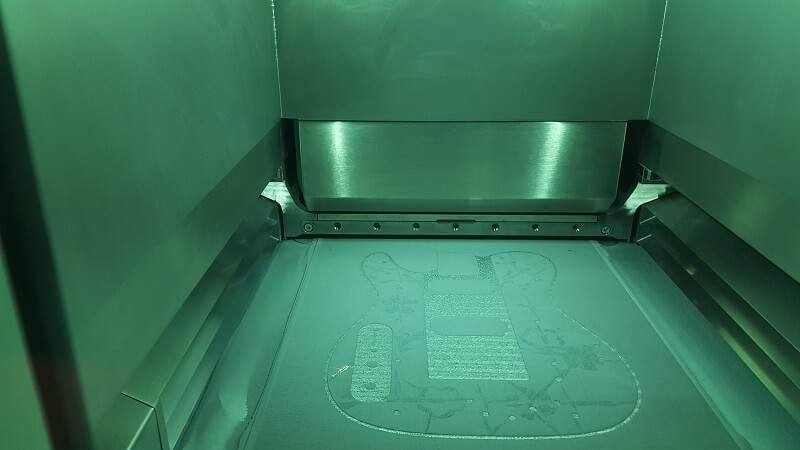 Afterwards the most complex part of the process begins, because then the finished printed body has to be freed from the rest of the powder as well as the entire carrier material and with such a complex geometry this can only be done manually: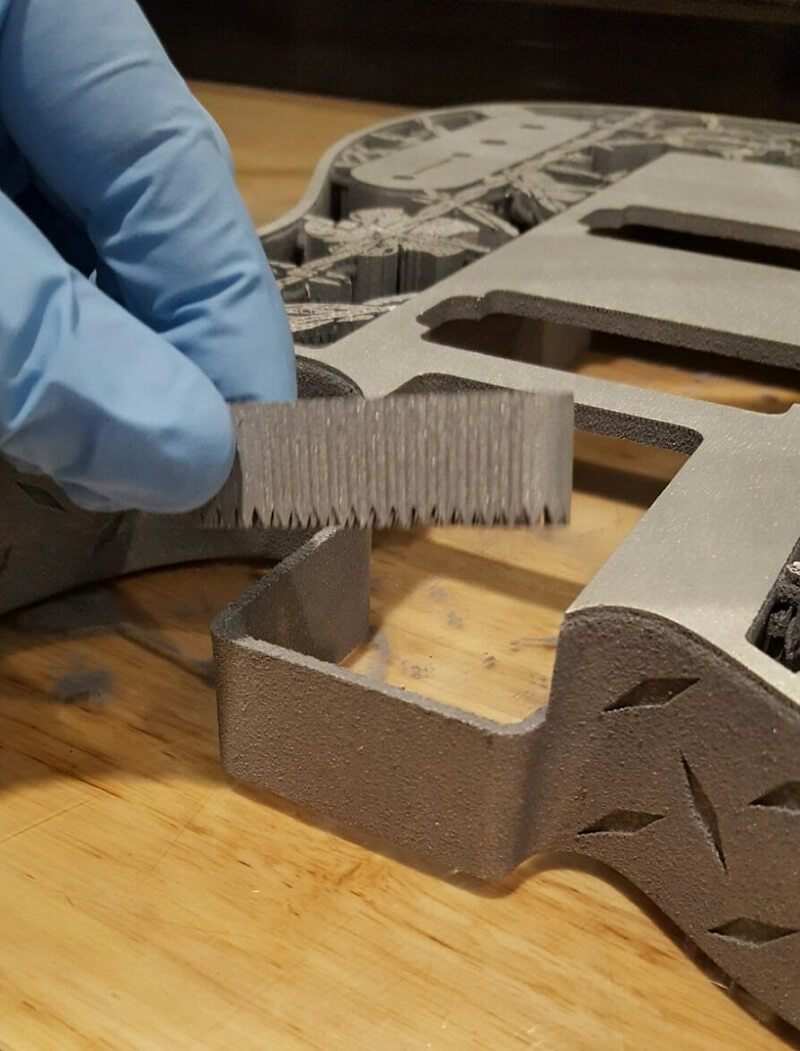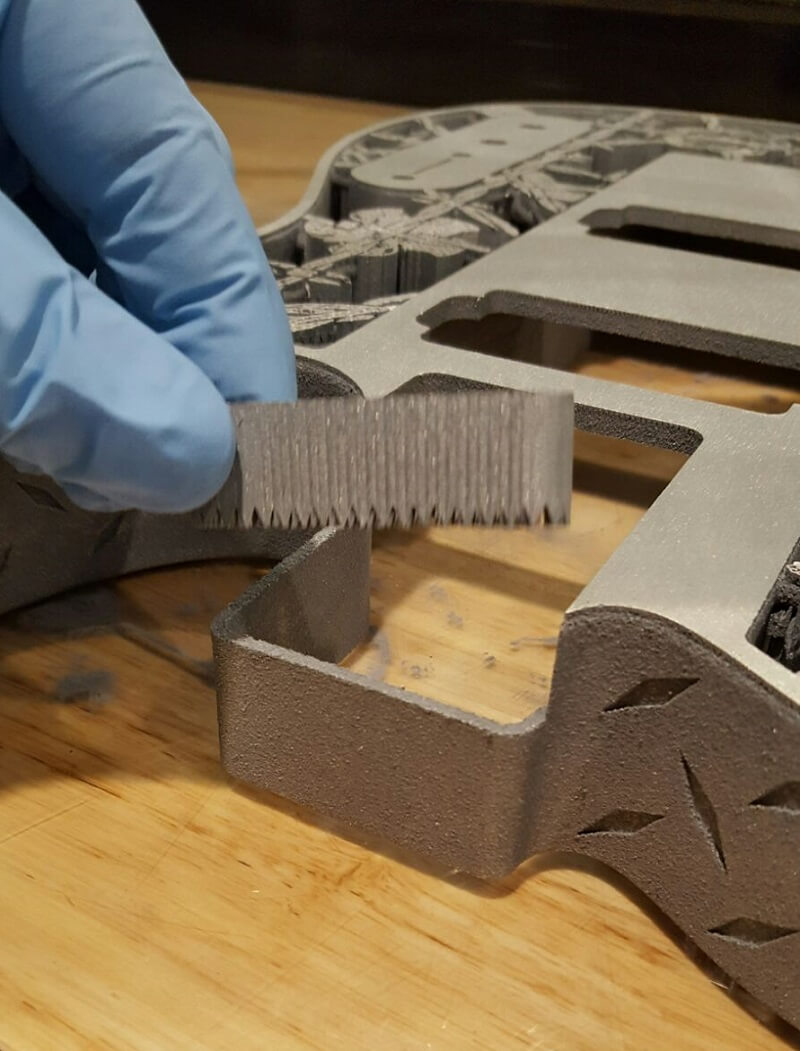 At the end the body was treated by shot peening, ground and filed, so that it is smooth and pleasant to touch.
---
The ODD Guitar Assortment
In addition to "Heavy Metal", ODD Guitar also offers other extremely cool models – all from the 3D printer: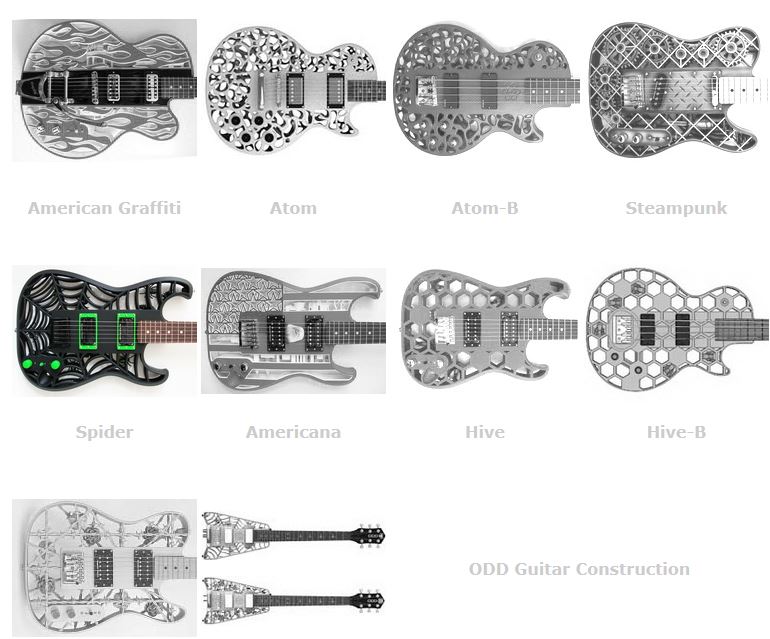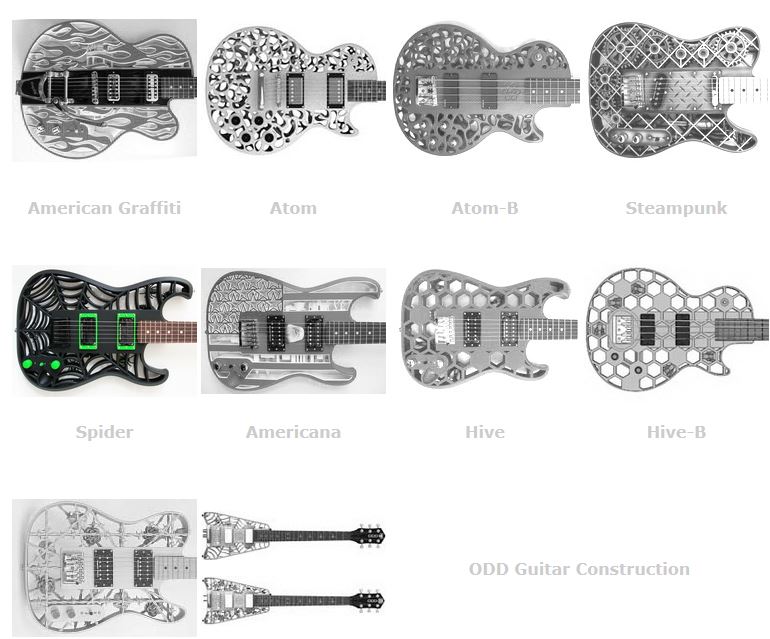 ---
Source: ODD Guitars
---
And if you would like to print a guitar yourself, you will find here ingenious 3D models for electric guitars, acoustic guitars, ukuluules and co…