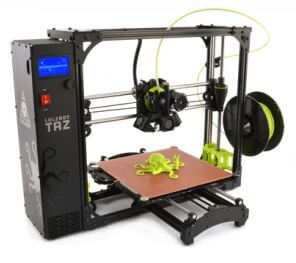 The LulzBot TAZ has a print area that is almost as big as a basketball. If required, the device can also be upgraded with a dual extruder.
---
Model: LulzBot TAZ
Technology: FFF
Price: approx. 2.300$
Release: 05/2017
DIY Kit: No

---
Size: 66 x 52 x 52 cm
Weight: 19.5 kg
Printing Volume: 28 x 28 x 25 cm
Building platform: heated
Dual extruder: No
Filaments: ABS, PLA, HIPS, PVA, Polyester, PETT, Nylon, PETG, PCTPE, PC-ABS, Alloy 910, etc.

---
Software: Cura LulzBot and Open Source such as OctoPrint, BotQueue, Slic3r, Printrun, MatterControl
Filetypes: STL, G-Code
Operating systems: Windows, Mac, Linux

---
---
---