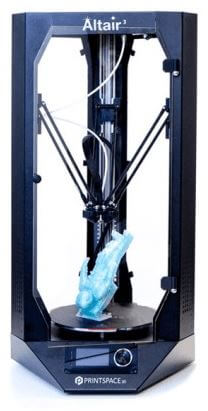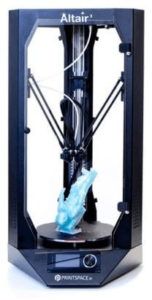 PrintSpace3D's Altair 3 Pro delta printer is equipped with automatic pressure bed levelling and can be used in open or closed position.
---
Model: Altair 3 Pro
Technology: FFF
Price: approx. 3.360$
Release: 01/2017
DIY Kit: No

---
Size: 70,5 x 39,3 x 39,3 cm
Weight: 7.6 kg
Printing Volume: 17,7 x 25,4 cm
Building platform: heated
Dual extruder: No
Filaments: PLA, ABS, Carbon Fiber ABS, Nylon, Polycarbonate, PVA, HIPS, PETT, TPU, Metallic fill, "Tough", Flexible PLA, Carbon Fiber PLA u.v.m.

---
Software: Simplify3D u.a.
Operating systems: Windows, Mac, Linux

---
Special features: LCD-Display, PrintSpace 3D NOVA Hot End

---
---
---